Soultanicals Afrotastic Curl Elastic Deep Conditioning Treat
Nutrient-rich and botanical creamy, Soultanicals Afrotastic Curl Elastic Deep Conditioning Treat deeply rehydrates and detangles thick, thirsty hair, allowing easy comb through.  
This vegan-friendly treatment contains strand-softening Ximenia oil and deep-conditioning Amla fruit to deeply penetrate the hair cuticle. Did we forget to mention it has lots of slip?
Suitable for:  Curly, kinky/tighthy-coiled and chemically-processed hair.
Size: 236l (8oz)
Please note that Soultanicals produces the large size periodically per year.
Apply product on to your hair from root to tip. Use in conjunction with a plastic cap or best result use a  steamer or Hot Head Deep Conditioning Thermal Heat Cap for at least 20 minutes. The heat will penetrate the hair shaft, enabling the botanical formula to deeply condition, repair and strengthen the hair. Rinse with cool or lukewarm water to seal moisture in the hair cuticles and maintain shine.
Distilled Water Botanically Infused with Marshmallow, Rosemary, Burdock, Amla, Chamomile, Thyme, Sage & Coltsfoot, Organic Aloe Juice, Behentrimonium Methosulfate, Cetyl Alcohol, Vegetable Glycerine, Organic Olive Oil, Avocado Oil, Hydrolyzed Jojoba Protein, Guar Gum, Sorbitol, Pro Vitamin B5, Ximenia Oil, Shea Butter, Vitamin E, Potassium Sorbate, Leuconostoc/Radish Root Ferment Filtrate, Natural and Fragrant Oil Blends.

 

Free from:  Paraben, Sulfate, Phthalate, Mineral Oil, Petroleum and Artificial Colours.




 
Customer Reviews
Anonymous
United Kingdom
I recommend this product
12/05/2020
Soultanicals Afrotastic Curl Elastic
As good as I expected: great slip, nice weight and texture when you scoop it out, absorbed into my hair strands with a bit of adsorption so I could see where I had put it. I usually use heat To deep condition but I just used a plastic cap. I had such great curl definition before washing it out and my hair had so much elasticity that it just bounced back after each stretch. My hair felt like silk when I washed it out. Loved it!
Karen
United Kingdom
I recommend this product
05/01/2020
GOAT deep conditioner
Wow, This deep conditioner is incredible, it has tons of slip, slides on the hair like a dream. My hair felt like butter when I washed out this deep conditioner. Worth every penny! I have tried my deep conditioners but this is now my holy grail.
Luce
I recommend this product
29/06/2019
Afrotastic Curl Elastic
Usually love this product. First purchase from this site. Will be my last. Received a fake product. Slight difference in packaging, big difference in consistency and smell. As runny as water and smells like cheap perfume.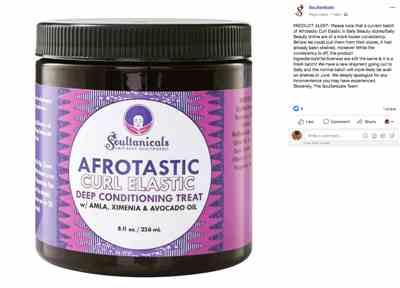 We are sorry to learn that the Soultanicals Afrostatic Deep Conditioner you received did not met your expectation as per usual. As an authorised retailer, we can categorically confirm we do not sell fake product in any shape or form on our store. Soultanicals is aware of this consistency issue, which has also been raised by other customers. As well as with other retailers they supplied, we received a batch back in April that had a less thick consistency. Despite this hiccup, the product ingredients and effectiveness remain the same, as reassured by Soultanicals (see attached screenshot). You can also check out their response via their facebook page ( https://www.facebook.com/Soultanicals/photos/a.369562749781268/2669740886430098/?type=3&theater ). Alternatively, you may wish to contact them directly (customerservice@soultanicals.com) to verify the information we have provided to. In future, if you do have similar concern with your purchase, please feel free to contact us immediately and we will be happy to resolve your issue. Hope this information helps.
10/02/2019
Best deep conditioner
This is an amazing deep conditioner. I use it on my 12 year old daughter's natural curly/***** hair which I believe is low porosity, 3c. I can detangle with it and it leaves her hair feeling very soft with beautiful curls. We love it. Would highly recommend.