Ecoslay Orange Marmalade Curl Definer Gel
Ecoslay Orange Marmalade Curl Definer Gel delivers frizz-free curls with incredible shine. With a fantastic slip, this plant-based gel offer enough hold for even a multi-day hair, leaving no stiffness, crunchiness or residue/flakes behind. The gel feels very smooth when applied to the hair and gives you consistently beautiful curl definition each time you use it. 

Flaxseed provides additional nourishment for hair follicles and moisturises the strands.  Aloe Vera juice also acts as a great conditioner and leaves your hair all smooth and shiny. Agave Nectar offers moisture and gives hair a lustrous shine.
What type of hair is this product good for?
✔ Curly or wavy hair
✔ Low, medium or high porosity 
✔ Fine, medium or thick density/diameter 
✔ Colour-treated or relaxed hair


Size: 236ml | 8oz
Apply liberally to soaking wet hair. Air dry or diffuse.
Due to its mild preservative formula, keep this Ecoslay product refrigerated to preserve its shelf life. Ideally, away from the fridge light. 
Flaxseed extract, Agave nectar extract, Pectin, Aloe Vera juice, Marshmallow Root extract, Vitamin E, Xanthan Gum, Optiphen Plus, Sweet Orange Essential Oil.
Free from: Sulfate, Paraben, Silicone, Mineral Oil, Phthalate, DEA, Animal Testing.
Customer Reviews
Becky J.
United Kingdom
I recommend this product
21/11/2020
My favourite gel so far
Lovely product, gives a great cast and Leaves my hair soft and shiny!
Janet R.
United Kingdom
I recommend this product
13/10/2020
My curls are so soft.
I have been used to a gel which gave more hold but they all feel very product-y. Ecoslay orange marmalade fivesme a good cast and hold my curls softly. I find that even on day 4, including refreshes, my hair isn't to full of product and still feels soft.
Anonymous
United Kingdom
I recommend this product
17/09/2020
Disappointing
I have read so many great reviews for this product and was excited to try it out. Unfortunately it just didn't do anything for my hair. I tried applying a number of different ways. It gave me no hold or shine and my curls were breaking up before the end of the day.
Good morning, we are sorry to learn that the Ecoslay Gel didn't meet your expectation. From our expertise standpoint, there are two main overlooked reasons why a hair product may not work for some people as intended to. 1. Product build-up resting on the upper layers of the hair and acting as a blockade between the product and the cuticles. 2. If the product was used in conjunction (before or after) with another brand of product it can cause ingredient-clashing and therefore, making styling ineffective. You may wish to try the gel again after using a clarifying shampoo and conditioning your hair. Also, if you used it with another brand of product, avoid doing so next time. Hope this info helps and apologies for any disappointment caused.
Anonymous
United Kingdom
I recommend this product
16/08/2020
Fab
Beautiful, made my hair feel like silk and great curls
Anonymous
United Kingdom
I recommend this product
14/08/2020
Great gel!
A lot of the CGM community and those with wavy hair swear by this product, and it's for a good reason! It has great hold and is supporting a black owned business with a clear & ethical ingredients list!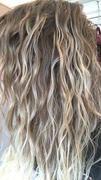 Thank you very much for your review and support. Glad to know the product meet your expectation :-)
Panel Tool
Default
Boxed Large
Boxed Medium
Header Default
Header One
Header Two